6th Grade Summary
Teachers: Mr. Micah Baganz, Mrs. Bethany Irish
Highlights: 6th grade is the first year of middle school. Students are in semi-departmentalized classes and may be in a math class with 7th grade students. The expectation for 6th grade students is that they are learning to navigate school on their own.
Field Trips: In 6th grade, our big class field trip is a trip to Chicago where we go to see the Museum of Science and Industry, Shedd Aquarium, 360 Chicago, and go out for a pizza dinner. We also take a trip to the Milwaukee Zoo and do a service project with Feed My Starving Children.
Curriculum features-
Literature: Literature in 6th grade focuses on exploring various genres of writing through novel studies. We cover a wide variety of texts to help students determine their best fit. Along with novel studies, students are still learning how to master comprehension strategies like inferencing, predicting, sequences, etc. These skills are practiced during reading but also in small group station work.
English: Students take their pen and write away in 6th grade. Students write a range of pieces varying in length throughout the year. Some pieces include: preposition poetry, personal narratives, creative writing, and a research paper. Instruction follows a writer's workshop model in which students are taught a mini-lesson, have writing time, and then have a chance to share their work with peers. Grammar and spelling are also taught through modeling and student practice in their writing pieces. Nearly all writing assignments become "published" pieces where students use word processing programs to type and format their final drafts.
Science: Sixth grade science class will consist of several units throughout the year. The year will start with a study of plants and animals. Our next units will be a study of weather and space. Following these units, we will switch gears to study computer science and programming, specifically an introduction to java scripting and python. Our year will conclude with robotics and automation using Vex-IQ kits.
Social Studies: Sixth grade Social Studies class explores European and Asian history, geography and culture. Our year begins with studying European history from Ancient Greece through the present, and then continues with European geography and culture.
We then look at the geography, history and culture of Russia. Our year concludes with the study of East Asian geography, history and culture.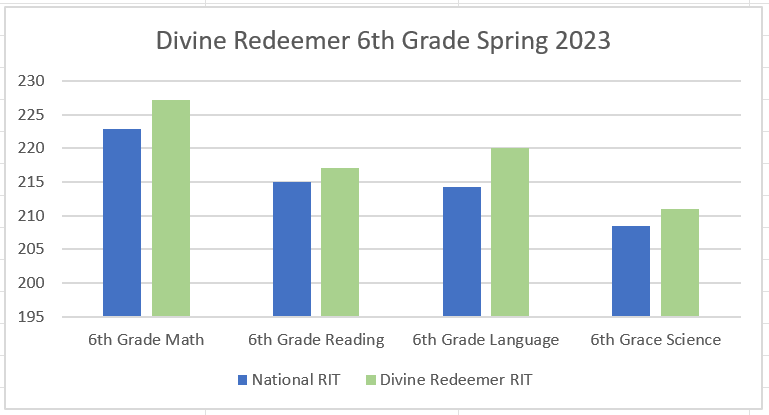 Technology-Explain how it is used in your grade, what platforms/apps that you're using in your grade. In sixth grade, we have a multitude of technologies that are used in our classrooms. First, each student is given an iPad in a 1:1 format. These iPads are preloaded with apps for each student. Examples of apps that are used are things such as the Google G-Suite for Education apps, apps that interact with the Vex-IQ kits used in robotics, as well as other apps used for reading, or other research apps.

Students also have access to a laptop cart that can be used in 5-8 grades. The laptop cart helps to fill in any gaps technologically that the iPads cannot handle. Although the iPads can handle most activities that the student's do, some applications that use Adobe Flash Player or our coding exercises do not like iPads, and the laptops are a great resource to move to when needed.
Specials Available- Specials that are available to sixth graders are music, Spanish, choir, art and PE class.
Extracurriculars for girls and boys offered in 6th grade.
Students in 6th grade have a vast number of choices when it comes to extra-curricular offerings. For athletics, students may participate in boys and girls volleyball, boys and girls basketball, Co-Ed soccer, cheer, cross country, and track and field. Other offerings include: Lego League, chess club, drama club, book club, and future problem solvers.
What time is lunch hour? Lunch is at 12:25 for 6-8 graders.
How many recesses-morning/afternoon? Sixth grade has one recess at 12:50-1:05ish everyday