5 Year Old Kindergarten (5k)
Grade/Subject: Kindergarten
Teachers: Mrs. Denise Adler and Mrs. Paula Lamp

Schedule Options:
Half days: 8:15 a.m. - 11:50 a.m.
Full days: 8:15 a.m. - 3:30 p.m.
If asked to describe the kindergarten experience at Divine Redeemer Lutheran School with one word, that word would be dynamic. According to the Oxford Dictionary, the word dynamic is explained as "a process or system that is characterized by constant change, activity, or progress". The kindergarten year is a huge transformational year, a bridge from early childhood learning to elementary learning. Students develop and learn in a way that suits them best through active, hands-on instruction by means of movement, dramatic play, songs, educational centers or stations, manipulatives, and STEM-based learning. Lessons are taught in a variety of formats: whole group, small differentiated groups, and individual instruction as needed. In addition to this, the kindergarten students participate in the specific subject areas of religion, reading, phonics, math, social studies, and science. They also are able to attend many of the same specials (for the first time) as the students in the first through eighth grades. These specials include Physical Education, Music, Choir, Art, Chapel, Library, Guidance, and Spanish (for full-day students only). Full-day kindergarten students enjoy two outdoor recesses daily. Half-day students receive one outdoor recess weekly with the hopes that they are spending time outdoors each afternoon while not in school. Indoor playtimes occur frequently throughout the week as time permits.
Being a Christian school, we seek to lovingly educate the whole child including their spiritual well-being. Religion lessons are taught daily in engaging ways through Bible story readings, video clips, songs, puppets, games, art projects, and dramatic play. We want our students to love God and to grow in confidence in their faith as they receive the benefits of walking humbly with Him. We model our behavior after Jesus and provide opportunities for our students to problem-solve and work on social/emotional skills and relationships daily based on our Christian values and Biblical teachings.
It also is our desire to provide engaging learning opportunities for our students that not only build knowledge but instill a joy of learning that will last a lifetime. Some special features of kindergarten include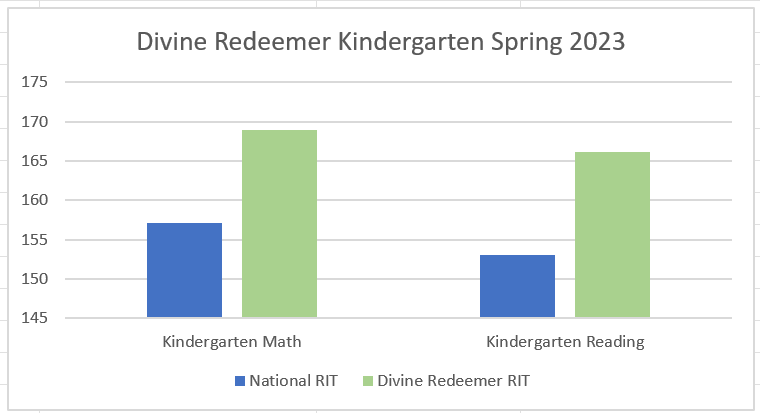 A few of the extra special activities during the kindergarten year include: a Hibernation Celebration where students dress as bears, go on a treasure/treat hunt, design caves, and make a variety of art projects related to how animals prepare for winter; the 100th Day of School Celebration where students participate in a 100th Day Museum Exhibition, make crazy 100th Day hats, and enjoy a variety of 100th Day learning activities; a Gingerbread Man Unit where students read a variety of Gingerbread Man stories, make theme-related art projects and crafts, complete a STEM project, and reinforce introduced concepts through a surplus of Gingerbread Man stations or centers. Kindergarteners participate in Grandparents' Day, the entire school Christmas Concert, and end the school year with a special graduation program. Full-day students have a fourth grade reading buddy that they are paired up with an afternoon each week. Field trips include a pumpkin/apple farm, the Charles Horwitz-DeRemer Planetarium, and a local play/musical.

Technology is used as a limited instructional tool at our level. Short educational video clips are shown on our Promethean Boards to introduce or reinforce concepts. iPads are used 3 times a year for MAPS Testing and during the fourth quarter for Accelerated Reader Testing.